Hello and welcome to Step Two!
Today's task should only take a few minutes. Based on the decision you made in Step One, now it's time to look at the calendar and pick your specific dates!
The reality of your trip will begin to set in as soon as you specifically decide when you are going to go, so this step is a biggie.
As you look at the calendar to pick your dates, you'll want to keep these things in mind:
How much time you'll be able to get off of work
The amount of time it will take to travel to and from Acadia (not including your sightseeing days)
How many days you can afford for lodging and dining
If there are any major holidays/fee-free days/festivals you'd like to be in the park for or avoid
In addition to picking a specific time to visit, you'll also want to think about how many days you want to spend sightseeing in Acadia. Let me provide some guidance!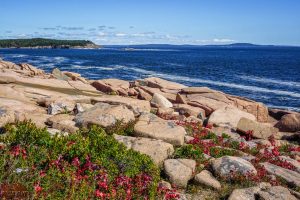 4 Days
To fully experience the park and its many regions, I STRONGLY suggest giving yourself at least four FULL sightseeing days. In that amount of time, you can see the best points of interest and give yourself time to get off the beaten path as well.
A 4-day visit will allow you to avoid the crowds like a champ, which will be especially beneficial if you plan on being in the park during the summer! If you have time to stay longer, you'll open up more options for longer hikes and extra activities such as biking or fishing.
3 Days
Spending three full days in Acadia will still allow you to see all of the park's main attractions, but you'll likely have to cut out a few of the smaller and off-the-beaten-path stops.
2 Days
If you have two full days in Acadia, you'll really only have time to see two sections of the park. If you've never been before, that's likely the coastal area along the Park Loop Road and the Jordan Pond/Cadillac Mountain area.
Organizing your sight-seeing options to avoid crowds and have a more enjoyable time is possible, you just might not have time to fit in everything you'd like to do!
1 Day
Acadia in one day can be done, but I definitely don't recommend it! It is possible to see the big stuff in that amount of time….but it will feel a little rushed, and it will be impossible to avoid the crowds.
You'll also be traveling to the most popular areas of the park during some of the busiest times of the day, so getting caught in a few traffic jams along the way is inevitable!
Alright, are you ready to complete Step Two? Let's lock in some dates! Don't forget to choose your dates based on how many sightseeing days you have PLUS the number of travel days you'll need to get to and from the park.
It's time to take a look at the calendar and pick some specific dates for your trip to Acadia.
It's so exciting to have the actual dates picked out….your enthusiasm level will skyrocket! I can't wait to talk to you tomorrow!
This is Step 2 of planning the perfect trip to Acadia. To read the other steps of this series, sign up here.