Hi, I'm Ash!

I hope you will consider yourself my friend. I am a former ranger for the National Park Service, a lover of travel, all things chocolate, and laughing until I can barely breathe. I always thought that I would be one of those people who lived out of their car and just traveled from National Park to National Park, having constant adventures and noteworthy experiences.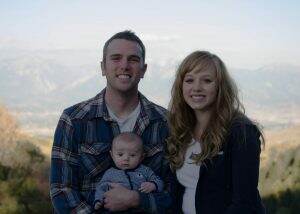 Fast forward to right now and I'm a mom of a curious baby boy and the wife of a hardworking husband, living in Salt Lake City and having what most people would say is a pretty normal life. In the midst of my ordinary days of changing diapers and doing dishes, I have found a way to have the adventurous life that I always wanted. I'm here to share it with you so that you can join the fun!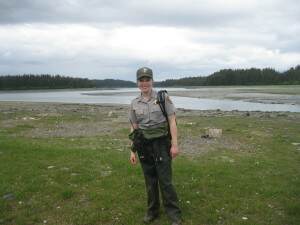 I have always had a great love for camping and hiking, instilled in me from a young age by my grandparents. My love for nature exploded when I took a job near Denali National Park in Alaska after my first year of college. I have been exploring ever since! After my time at Denali I decided to pursue an opportunity with the National Park Service. My first job as a park ranger was at Grand Teton National Park in Wyoming. I then moved on to Timpanogos Cave National Monument in Utah and then headed back up to Alaska for a job at Glacier Bay National Park.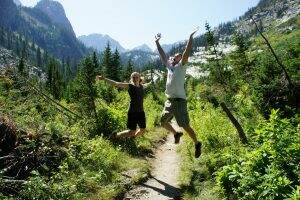 After my job in Glacier Bay, I got married to my husband John, who supports me in all of my crazy ideas and excursions. He has a few crazy ideas of his own. The dream of his life is to have his own dogsled team! I'm trying to be supportive of that one 🙂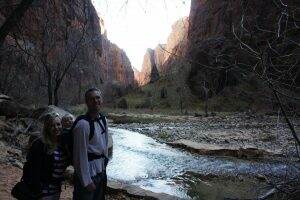 People have always told me to enjoy my adventures while I can before I have a baby. I've heard it said that life ends when kids come into the picture. I refuse to believe that. I don't feel like I should have to give up the person that I am in order to have a family of my own. In 2014 we welcomed our son Jackson into the world. John and I are working very hard to instill in him a great love of the outdoors. We take him with us on our outdoor adventures and he loves it (most of the time….).
Dirt In My Shoes
Read the story behind the name Dirt In My Shoes here!
This site is dedicated to helping you plan and execute outdoor adventures of your own, whether you will be taking children with you or not. I will provide a detailed description of a great place to explore, complete with pictures and advice to make your outing a success!
Hiking and Camping
I love to get outside whenever I can, finding you the best places to hike and camp. Be sure to read more about my favorite hiking trails and camping spots, including guides that you can download and print!
National Parks
I am working hard to bring you the best guides to the National Parks! Check out the guides that are currently available here.
Secret Hikes
Everybody loves a good secret, which is why my Secret Hikes posts are extremely popular. These hikes are hidden treasures you can find in our beloved National Parks, so be sure not to miss out.
Thank you for visiting and don't be afraid to get a little dirt in your shoes!!