Hey there! Are you ready to plan an exciting trip to Death Valley National Park?! Feel like you're on a grand adventure as you explore the hottest, driest, and lowest national park in the country! You are sure to find something here that everyone in your group will LOVE.
Death Valley is a place you will never forget — and likely somewhere you will talk about for years to come. In this land of extremes, you'll come to appreciate the diversity of life and landscape that exists here. This incredible place will leave you speechless!
There is so much to do. You may have already looked at a map and been a little overwhelmed — and eager — to make sure that you don't miss the best sights.
I'm a former park ranger, and I'll help you plan your vacation down to the details. I've extensively explored Death Valley and am here to help! Whether this is your first time to Death Valley, or if you are returning after many years and would like to be reintroduced to the park, this list of 10 things is for you.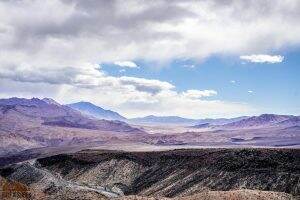 What You Need to Know
Death Valley is open year-round. October – April is peak season in the park. By May, the temperatures are usually too hot for most visitors to the valley! For more information on the park's operating hours and seasons, click here.
Lodging, general stores, gas stations, and restaurants within Death Valley are available at Furnace Creek, Stovepipe Wells, and Panamint Springs. The selection is small and expensive. It's a good idea to get what you need before you enter the park!
There are 9 NPS campgrounds in Death Valley, with the majority of the campsites being first-come, first-served. You can learn more about camping in the park here.
Plan ahead! At over 3 MILLION ACRES, Death Valley is the largest national park in the contiguous United States. It's also the hottest place in the world with a record temperature of 134 degrees! And the lowest and driest place in North America! Click here to learn more about what to expect during your visit.
Many points of interest within the park are accessed via dirt roads. Most of the roads to the popular spots are considered "passable" for sedans, but just be aware that the roads can get a little rough.
I'll make sure that you don't miss the sights that make this park so famous, but I also want to provide a few treasures that are off the beaten path as well. Let the adventure begin!
Click NEXT to see this exciting list of 10 things you can't miss on your first visit to Death Valley National Park!