Hey there! Are you ready to plan an extraordinary trip to Glacier National Park?! From the sparkling lakes and gushing waterfalls to the exciting wildlife and majestic mountains, you are sure to find something that everyone in your group will LOVE.
Glacier is a place where memories are made and talked about for years to come. It will fill your soul with wonder and amazement. It's a place that you will never want to leave!
There is so much to do. You may have already looked at a map and been a little overwhelmed — and eager — to make sure that you don't miss the best sights.
I'm a former park ranger, and I'll help you plan your vacation down to the details. I've extensively explored Glacier and am here to help! Whether this is your first time to Glacier, or if you are returning after many years and would like to be reintroduced to the park, this list of 10 things is for you.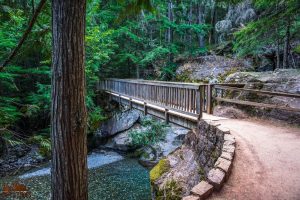 What You Need to Know
With five large entrances and several out-of-the-way sections to explore, Glacier is a large and complex national park. For the best experience, get an early start to your day and have a solid plan — like this detailed itinerary.
Even with 13 front-country campgrounds, competition for sites is fierce. Learn about camping in Glacier if you plan on camping in the park.
Glacier is an extremely seasonal park! Expect weather-related closures to remain in place from approximately October – June. For more information on the park's operating hours and seasons, click here.
Several options are available to you if you decide not to drive through the park on your own — or choose not to fight the crowds for parking spaces! Consider taking the Glacier Shuttle or a Red Bus Tour if you want to leave your car for the day.
Reserve a room at least one year in advance if you plan on staying in one of Glacier's seven lodges — they get snatched up fast! Otherwise, numerous options are available just outside of the park at each entrance.
I'll make sure that you don't miss the sights that make this park so famous, but I also want to provide a few treasures that are off the beaten path as well. Let the adventure begin!
READY FOR A VACATION THAT YOUR FAMILY CAN'T STOP TALKING ABOUT?


See Glacier's BEST SIGHTS at the BEST TIMES with this hour-by-hour itinerary!
Click NEXT to see this amazing list of 10 things you can't miss on your first visit to Glacier National Park!


Disclosure: This post contains affiliate links, which means that (at no extra cost to you) I receive a small compensation if you make a purchase. Recommended products are only those that I personally love! I appreciate your support and welcome any questions you may have about any products featured on my site. Thanks! Ash