Hello there and welcome to Dirt In My Shoes!  Are you ready to plan an unforgettable trip to Great Smoky Mountains National Park?!?!  From the stunning old growth forests and historical buildings to the gorgeous vistas that stretch for many miles, you are sure to find something that everyone in your group will LOVE.
Great Smoky Mountains is a place where memories are made and talked about for years to come.   It's a place that has been beloved by families for many generations, fostering a love for the great outdoors deep within the soul of anyone who steps foot here.  You can't help but be drawn back to this place time and time again!
There is so much to do.  You may have already looked at a map and been a little overwhelmed — and eager — to make sure that you don't miss the best sights.
I'm a former park ranger and I'll help you plan your vacation down to the details.  I've extensively explored the Great Smoky Mountains and am here to help!  Whether this is your first time to the Smokies, or if you are returning after many years and would like to be reintroduced to the park, this list of 12 things is for you.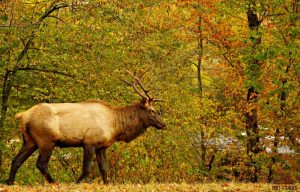 What You Need to Know
Great Smoky Mountains National Park is the most visited park in the United States.   For the best experience during your time here, get an early start to your day and have a solid plan!
This park is open year round, with the exception of a few secondary roads that close during the winter months.  Check the NPS Website for information on operating hours and seasonal opening and closing dates within the Great Smoky Mountains.
This park is unique because only one lodge is available within the park — and you've got to hike 5-8 miles on foot to get there!  The LeConte Lodge sits atop Mount Le Conte, the park's third highest peak.  Advanced reservations are required.
I'll make sure that you don't miss the sights that make this park so famous, but I also want to provide a few treasures that are off the beaten path as well.  Let the adventure begin!
Click NEXT to see this amazing list of 12 things you can't miss on your first visit to Great Smoky Mountains National Park!