Well hello there! Are you ready to plan an exciting trip to Hot Springs National Park?! This park is all about the famous thermal water! You are sure to find something here that everyone in your group will LOVE.
Hot Springs is a unique place to visit — and likely somewhere you will talk about for many years. It's unlike any other national park you've ever been to. Come ready to relax, learn some history, and have fun in the water!
There are some great things to do here. You may have already looked at a map and been a little overwhelmed — and eager — to make sure that you don't miss the best sights.
I'm a former park ranger, and I'll help you plan your vacation down to the details. I've extensively explored Hot Springs and am here to help! Whether this is your first time to Hot Springs, or if you are returning after many years and would like to be reintroduced to the park, this list of 5 things is for you.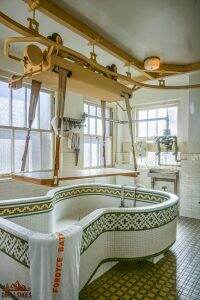 What You Need to Know
Hot Springs is a small national park. The main section runs right through town, with a couple of short side trips possible to explore the surrounding mountains. For a map of the park,

click here.
At this park, it's all about the water! If you come to learn about the thermal water and the history surrounding these hot springs, you'll have a great time. Otherwise, you may be disappointed that there isn't as much "nature" in this national park 🙂
There are no hotel options within Hot Springs National Park, but there is a

fabulous campground!

If you're looking for somewhere to stay, there are also plenty of places to go in the town of Hot Springs.
The town of Hot Springs has a rich history with many activity options. Grab a bite to eat and listen to live music at Maxine's or the Ohio Club, tour the Gangster Museum, or step foot in the supposedly haunted Arlington Hotel.
Because this park puts a lot of emphasis on the history and bathhouses, definitely pay attention to the opening and closing hours. To see a schedule of the building's hours of operation, click here.
I'll make sure that you don't miss the sights that make this park so popular, but I also want to provide a few treasures that are off the beaten path as well. Let the adventure begin!
Click NEXT to see this excellent list of 5 things you can't miss on your first visit to Hot Springs National Park!