Take an adventurous hike through a slickrock canyon to the gigantic (and absolutely stunning) Corona Arch!
With Arches National Park in the nearby vicinity, Corona Arch is often overlooked.  I had been to the Moab area many times but had never attempted this trail, so I was utterly shocked to discover that it truly does rival any arch you will see in Arches National Park….even Delicate Arch.
The sheer grandeur of Corona Arch is difficult to capture in a photograph, but it is actually taller than Delicate Arch.  I especially enjoyed this arch because I didn't have to fight to get a great picture of it….there was nobody else around.  If you are looking for an amazing destination without all the crowds, look no further and take the hike to Corona Arch!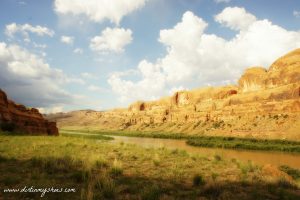 What You Need to Know
This hike offers fun and adventure for hikers of all ages without being too difficult or challenging.  We had a great time following the cairns (little stacks of rocks), scrambling up slickrock with the help of a safety cable, and climbing a sturdy ladder to reach the breathtaking Corona Arch.  It is one of the most exciting trails that I have been on in a while!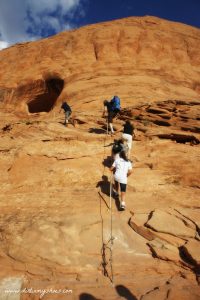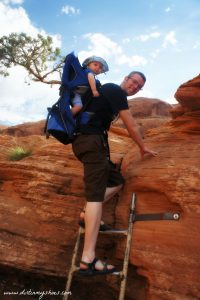 The Corona Arch trail is primarily exposed to the sun with very little shade, so the best time to hike is in the early morning or just before dusk.  We got to the trailhead around 7:15 a.m. and had the trail and the arch all to ourselves!  Please note that this trailhead has no water or bathrooms, however the Gold Bar Campground across the street does have a small bathroom if needed (no drinking water though).
The trail gains 440 feet of elevation, most of it in the very beginning and then a little later with the help of the safety cables and ladder.  The rest of the hike is relatively flat along the slickrock so just be sure to wear shoes with good traction to have the best and safest hiking experience.
I got eaten to death by mosquitoes on several sections of the trail (I did not expect that!) so I would suggest putting on some bug spray as well.
This trail is 3 miles round trip and provides beautiful views and lots of fun!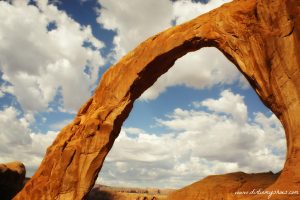 Getting Here
From Moab, travel north on Highway 191 and cross the bridge over the Colorado River.  From here, drive for 1.3 miles until you see the sign for the Potash Road/State Road 279.  Turn left (west) onto this road and drive for 10.1 miles.  Look for the sign for Corona Arch Trailhead on your right.  (If you reach the Gold Bar Campground you have just barely gone too far).
Along the Potash Road, I highly suggest stopping at the petroglyph panels and dinosaur tracks.  We stopped on our way back to Moab and it only took a few extra minutes.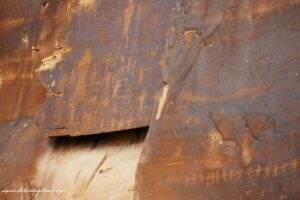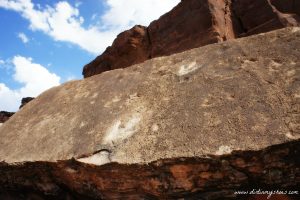 Happy Trails!
Have you hiked to or are planning a hike to Corona Arch?  Let me know in the comments below!