This is page 2 of this article. To start at the beginning, click here.
** WILLOW SPRINGS ENTRANCE **
The best way to begin your adventure through the backroads of Arches is to enter the park via the original park entrance! This is the entrance Edward Abbey made famous in his book "Desert Solitaire."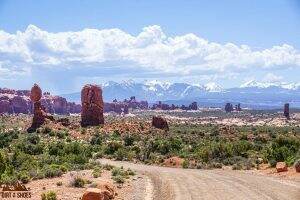 For specific mileages and waymarkers along this route, be sure to bring a detailed map or book of the area. This is the one I recommend. Driving the Willow Springs Entrance Road is suitable for jeepers of all ability levels.
After turning off Highway 191 onto the Willow Springs Road, follow the dirt road for several miles. This area is popular for camping, biking, and off-roading, so expect some crowding as you're starting out.
After passing multiple camping areas, be sure to notice the small sign on your left that points you away from the camping areas to keep you on the Willow Springs Road.
You'll drive through a wash with deep sand — this area may become impassable after a storm has rolled through. You'll also pass by several mountain biking trailheads.
The first stop on your journey is just beyond the parking for the KlonZo mountain biking trailhead. Look for a large sign marking the Dinosaur Tracks and park here.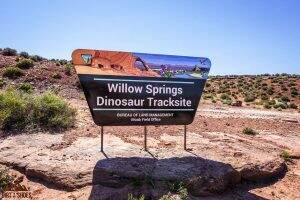 These dinosaur tracks are the most spectacular I've seen in the Moab area. Walk along the slickrock trail behind the sign and look down to find this fascinating collection of numerous dinosaur tracks. You can see the path the dinosaurs took and how long their strides were!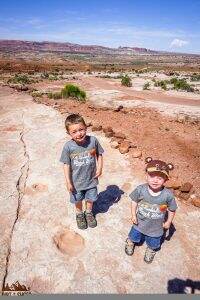 As you continue driving, you'll go up some rocky sections and some graded slickrock before reaching the sign marking the official entrance into Arches National Park. Upon entering the park, the road winds through the Willow Springs area and provides magnificent views of the LaSal Mountains.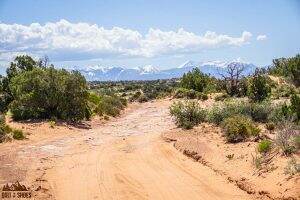 At the end of this road, you'll pass by a picnic area on your left before reaching the park's main road and the Balanced Rock parking area.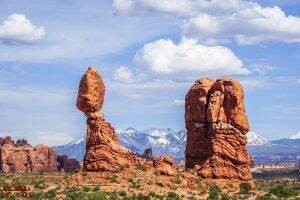 ** ARCHES MAIN ROAD **
When you reach the paved park road, take a left to follow this road deeper into Arches. Along the way, you'll pass by parking areas and side roads for popular spots like Double Arch, the Windows, Delicate Arch, and the Fiery Furnace.
After driving approximately 7.5 miles and passing the parking area for Sand Dune Arch on your right, look for the gravel Salt Creek Road on your left. Turn onto this gravel road and follow it down into the valley below.
Click NEXT to continue your adventure.