Hey there!  Are you ready to plan an unforgettable trip to Arches National Park?!?!  This park contains over 2,000 cataloged natural arches, making it the world's largest collection!
Nothing can prepare you for the grandeur of the red rock arches you will find here.  It is absolutely breathtaking!
There is so much to do.  You may have already looked at a map and been a little overwhelmed — and eager to make sure that you don't miss the best sights.
I'm a former park ranger and I'll help you plan your vacation down to the details.  I've extensively explored Arches and am here to help!  Whether this is your first time to Arches, or if you are returning after many years and would like to be reintroduced to the park, this list of 10 things is for you.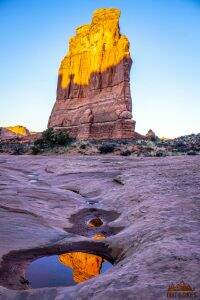 What You Need to Know
This area of Utah can get extremely hot in the summer, so plan accordingly.  Be sure to wear plenty of sunscreen, and NEVER hike without water.  Two areas of the park offer drinking water — the Visitor Center at the beginning of the road, and the Devils Garden Trailhead at the end of road.
You will occasionally see little stacks of rocks lining the trail as you hike.  These are called cairns and they are there to help you along areas that are hard to follow or discern what path you should take.  Do not touch, alter, destroy, or build new cairns in any way as a courtesy to your fellow hikers.
The soil in Arches National Park is actually a biological crust that has been living and growing for thousands of years, so stay on the trail.  Please do not disturb the fragile soil.
WANT THE PERFECT TRIP TO ARCHES?
Check out this awesome ARCHES ITINERARY — you don't want to go to the park without it!
Although there are an astonishing number of arches in this park, other great hikes and viewpoints without arches do exist.  I'll make sure that you don't miss the sights that make this park so famous. Let the adventure begin!
Click NEXT to see my AWESOME list of 10 things you can't miss on your first visit!