It's time to camp among the beautiful sandstone arches and desert landscape of Arches National Park!  The vibrant red rock pressed against a bright blue sky is one of my favorite views in the National Park system, and the best part about camping in Arches is that you never have to leave the gorgeous scenery that you traveled so far to see.  Numerous trails in the area provide some amazing places to watch the sunset cast a rosy glow over the already colorful landscape.
Based on how busy Arches National Park is, you may be surprised to find out that there is only one rather small established campground in the Park.  Competition is fierce for a campsite within Arches, so it's my job to make sure that you know what you need to know to snag one of those highly coveted sites!
While you are planning your camping trip, be sure to check out my list of 10 things you can't miss on your first visit to Arches.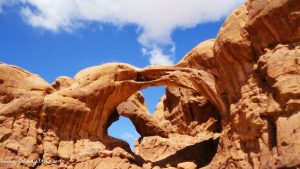 What You Need to Know
Reservations are absolutely required to stay in the campground from March 1 to October 31.  Sites can be reserved 180 days in advance and I highly recommend reserving as soon as possible to better your chances of a snatching a site.  All reservations must be made through Recreation.gov.  From November 1 to February 28, all sites are first-come, first-served.
No showers are available while camping in Arches
Each standard campsite only accommodates 10 people.  If you have a larger group, you will need to book 2 campsites or a group campsite
Dump stations and RV hookups are not available within Arches National Park
Firewood must be purchased from the camp host.  Burning of collected wood is prohibited
Summer temperatures in Arches National Park can often be unbearably hot during the day.  This area has very few trees and little to no shade and your tent will likely be in the direct sunlight for most of the day.  I highly suggest bringing a canopy of some kind to create some shade in your site.
Be sure to bring water bottles for every person in your group (preferably not disposable bottles).  Arches National Park does not sell disposable bottles of water.
Getting Here
The Devils Garden Campground is located 18 miles from the Park Entrance.  Drive along the Park Road until you reach the very end.  The campground is on your right along the one-way loop in the Devils Garden area.
Because Arches National Park only has one small campground, consider camping in a nearby campground in the Moab area if there is no availability.  Check out this map to see other campground options in the area or go to this website for more information!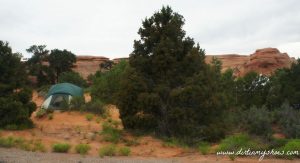 Devils Garden
Open Season:  Year Round
Max RV Length:  30 feet
Generators:  Ok from 8-10 a.m. and 4-8 p.m. only
Reservations Required:  Yes for dates between March 1 and October 31.  Click here to check availability.
Fee:  $25
Number of Sites:  50 individual and 2 group sites
Pets Allowed:  Yes, but please review Arches' Pet Policy
Restrooms:  Pit and Flush toilets available
Wheelchair Accessibility:  Site 007 is the only designated accessible site in the campground
Have an unforgettable trip!
Are you going to go camping in Arches National Park?  What hike is first on your list?  Let me know in the comments below!