Hey there!  Are you ready to plan an unforgettable trip to Zion National Park?!?!  You will be in awe of the red rock formations, the beautiful Virgin River, and the diversity of desert plants and animals that make up this fragile landscape.
Nothing can prepare you for the grandeur of the red rock mountains that will surround you in Zion National Park.  It is absolutely breathtaking!
There is so much to do.  You may have already looked at a map and been a little overwhelmed — and eager to make sure that you don't miss the best sights.
I'm a former park ranger and I'll help you plan your vacation down to the details.  I've extensively explored Zion and am here to help!  Whether this is your first time to Zion, or if you are returning after many years and would like to be reintroduced to the park, this list of 10 things is for you.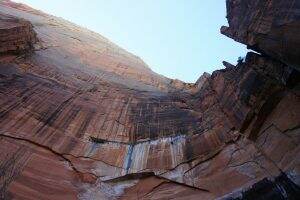 What You Need To Know
To travel into Zion Canyon (the most popular part of the park) anytime in Mid-March through November, you MUST use the free Zion Canyon Shuttle.  More information can be found on the official NPS website.
Reserve a room at least 6 months in advance if you plan on staying in the Zion Lodge — rooms get snatched up fast! Otherwise, numerous options are available just outside of the park at each entrance.
After a long day of hiking, you'll definitely want to get a delicious meal in your belly!  Dining options are limited within the park, but there are plenty of great options in Springdale.
I'll make sure that you don't miss the sights that make this park so famous, but I also want to provide a few treasures that are off the beaten path as well.  Let the adventure begin!
Click NEXT to see my list of 10 AMAZING things to do at Zion National Park.  Have a great trip!