I am always on the hunt for secret hiking trails and cool places to see when I go on a trip….or anywhere for that matter. I guess it comes with my slightly hermit-ish tendencies. Seriously though, secret hikes in National Parks are usually the hikes that I love the most!
What makes a trail a secret you say?! Basically my rule is that if the trail is not listed on the maps or brochures that I receive at a visitor center or entrance station, or if it is really hard to find in a guide-book or online then it counts as a secret. After all, 99% of people who go to National Parks will stick to the information that the rangers give to them.
Well, without further ado, here is a little gem of a secret trail in Zion National Park:
Hike to the Pine Creek Waterfall
This waterfall is quite small, but it is absolutely stunning with crystal clear pools that reflect the red rock that surrounds it. The best part was that we had it all to ourselves. Swimming is allowed in the pools (they are surprisingly deep) but as it was February when we were there, the water was too chilly to swim in. If I would have been there in the middle of a Zion summer…hot, hot, hot…then swimming would have been a definite yes.
What You Should Know
*Disclaimer* Because this hike is along an unofficial trail that travels through an area prone to flash floods, the trail itself may be slightly different than described below. Floods can change the amount of obstacles you'll encounter as you travel this trail!
The trail is about 1 mile round trip. It does require some maneuvering around boulders as well as a short slickrock climb around the pools at the end. We were able to complete it with our child in the baby carrier without much of a problem. The nice thing is that the trail is less than a mile so if you get to the end and decide not to climb on the slickrock, it's not that big of a deal. The hike itself is really pretty because it follows the creek the whole way.
As with all hikes in Zion National Park, prepare for sweltering temperatures and scarce shade. Be sure to take plenty of water and sunscreen, and don't forget to check the flash flood warnings at the Visitor Center. FLASH FLOODS CAN KILL. This is not something to take lightly so check the warnings before you go! This hike is definitely subject to flash flooding. We saw a few downed trees and markings on the walls where the water level has been.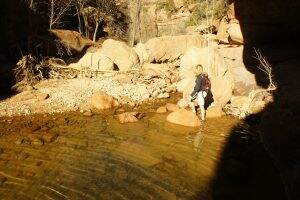 Getting Here
From the Springdale/South Entrance of Zion National Park, follow the road for about 1.5 miles to the Canyon Junction. At the junction, take a right toward the Zion – Mt. Carmel Highway. The road will be straight for a moment, and then it will start to make a U-Curve up the mountain. At the beginning of this U-Curve there is a dirt pullout with a small sign. This is the trail to the Pine Creek Waterfall.
Heading to Zion National Park?

Click NEXT to see my list of 10 Things You Can't Miss on Your First Visit!


Happy trails!
What is your favorite hike in a National Park?