Hey there! Are you ready to plan an awesome trip to Guadalupe Mountains National Park?! This park protects the four highest peaks in Texas and a Permian fossil reef, all while supporting a fragile desert ecosystem! You are sure to find something here that everyone in your group will LOVE.
Guadalupe Mountains is a place you will never forget — and likely somewhere you will talk about for years to come. At 8,751 feet above sea level, the majestic Guadalupe Peak is the highest point in Texas. The mountain views here are incredible!
There is so much to do. You may have already looked at a map and been a little overwhelmed — and eager — to make sure that you don't miss the best sights.
I'm a former park ranger, and I'll help you plan your vacation down to the details. I've extensively explored Guadalupe Mountains National Park and am here to help! Whether this is your first time to these peaks, or if you are returning after many years and would like to be reintroduced to the park, this list of 5 things is for you.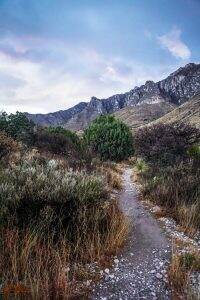 What You Need to Know
Guadalupe Mountains National Park is located on the Texas/New Mexico border. Services are minimal, but

Carlsbad Caverns National Park

is a short drive from here and offers additional options. Be sure to hit both parks while you're in the area!
Hiking in the desert can be a challenge! Come prepared with extra water and sunscreen, hike during the coolest hours of the day, and know the signs of dehydration and heat stroke.
There are no gas stations within 35 miles of the visitor center, and the nearest stations are in Dell City or Whites City.
You'll find only a few short roads that travel through the park, and most points of interest are accessed via their own road.

Keep a map handy

as you drive and hike around the park.
I'll make sure that you don't miss the sights that make this park so famous, but I also want to provide a few treasures that are off the beaten path as well. Let the adventure begin!
Click NEXT to see this fabulous list of 5 things you can't miss on your first visit to Guadalupe Mountains National Park!