Hey there! Are you ready to plan an exciting trip to Theodore Roosevelt National Park?! Immerse yourself in the stunning scenery that inspired a president to leave a legacy of conservation! You are sure to find something here that everyone in your group will LOVE.
Theodore Roosevelt is a place unlike any other — and likely somewhere you will talk about for years to come. Every bit of this land feels wild and untamed, from the winding river to the rowdy bison! And with a captivating history, this magical park will leave you speechless.
There is so much to do. You may have already looked at a map and been a little overwhelmed — and eager — to make sure that you don't miss the best sights.
I'm a former park ranger, and I'll help you plan your vacation down to the details. I've extensively explored Theodore Roosevelt National Park and am here to help! Whether this is your first time to the area, or if you are returning after many years and would like to be reintroduced to the park, this list of 8 things is for you.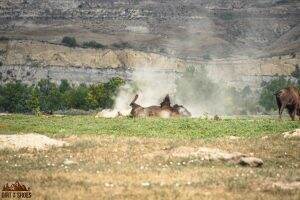 What You Need to Know
This park is divided into three units — North, South, and Elkhorn Ranch. The thing is, they are located in different time zones! South and Elkhorn are in Mountain Time. Jump ahead an hour if you're headed to the North Unit….it's in Central Time. Keep that in mind if you are traveling between the units.
Get to know the man behind the name before you visit! Learn more about Teddy Roosevelt's time in North Dakota and the significance of it

here.
There are no lodges and no restaurants in the park. The North Unit and South Unit each have their own campground if you're hoping to stay in the park. To make reservations or to learn more about your options,

click here.
The gateway town of Medora is a quaint historical place with lots to do, and you'll drive right through town to access the South Unit of the park. The Medora Musical and its accompanying

Pitchfork Steak Fondue

is a big deal out here!
North Dakota is notorious for its violent summer thunderstorms. Be in the know by

watching the weather forecast

and having an app on your phone that will send you weather alerts for the area if needed.
I'll make sure that you don't miss the most popular sights, but I also want to provide a few treasures that are off the beaten path as well. Let the adventure begin!
Click NEXT to see this awesome list of 8 things you can't miss on your first visit to Theodore Roosevelt National Park!