Hi there! Are you ready to plan a phenomenal trip to Mammoth Cave National Park?! Explore the massive underground terrain of the world's largest known cave system! You are sure to find something here that everyone in your group will LOVE.
Mammoth Cave is a place unlike any other — and likely somewhere you will talk about for years to come. Known as a "grand, gloomy, and peculiar place," this mysterious system of rooms and passageways is sure to peak your imagination and sense of adventure!
There is so much to do. You may have already looked at a map and been a little overwhelmed — and eager — to make sure that you don't miss the best sights.
I'm a former park ranger, and I'll help you plan your vacation down to the details. I've extensively explored Mammoth Cave National Park and am here to help! Whether this is your first time to the cave, or if you are returning after many years and would like to be reintroduced to the park, this list of 8 things is for you.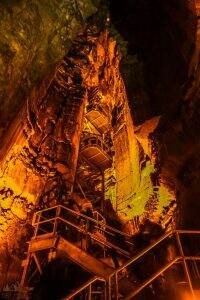 What You Need to Know
I'll make sure that you don't miss the most popular sights, but I also want to provide a few treasures that are off the beaten path as well. Let the adventure begin!
Click NEXT to see this awesome list of 8 things you can't miss on your first visit to Mammoth Cave National Park!