Hi there! Are you ready to plan an explosive trip to Lassen Volcanic National Park?! Standing tall at 10,457 feet above sea level, Mount Lassen is a stunning volcano that last erupted in 1915! You are sure to find something here that everyone in your group will LOVE.
Lassen Volcanic is a place unlike any other — and likely somewhere you will talk about for years to come. As you hike through this steaming, hissing, and bubbling landscape, get ready to discover a mystical place with a tormented and destructive history.
There is so much to do. You may have already looked at a map and been a little overwhelmed — and eager — to make sure that you don't miss the best sights.
I'm a former park ranger, and I'll help you plan your vacation down to the details. I've extensively explored Lassen Volcanic National Park and am here to help! Whether this is your first time to the park, or if you are returning after many years and would like to be reintroduced to the park, this list of 8 things is for you.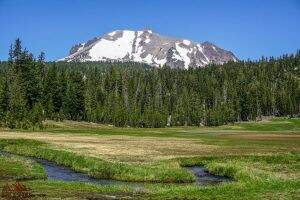 What You Need to Know
Lassen Volcanic is open year-round, but park roads often close due to winter conditions. For more information on the park's operating hours and seasons,

click here,

and check the

current road conditions

before you go!
This park typically has just two seasons, winter and summer! Winter conditions should be expected from November – May, and summer conditions exist from June – October. Plan accordingly with the proper gear to have a fun, safe visit to the park.
There is one lodge, three restaurants, and eight campgrounds in the park. To make lodging reservations or to learn more about your options,

click here.
Although Lassen Peak is now considered dormant, the park is still an

active volcanic area

with many hydrothermal areas. Scientists are confident that the question is not if Lassen Peak is going to erupt again, it's when. Learn a little about the 1915 eruption before you go.

These photos

are fascinating!
I'll make sure that you don't miss the most popular sights, but I also want to provide a few treasures that are off the beaten path as well. Let the adventure begin!
Click NEXT to see this exciting list of 8 things you can't miss on your first visit to Lassen Volcanic National Park!


Disclosure: This post contains affiliate links, which means that (at no extra cost to you) I receive a small compensation if you make a purchase. Recommended products are only those that I personally love! I appreciate your support and welcome any questions you may have about any products featured on my site. Thanks! Ash