I am always on the lookout for a great place to camp, but I never expected to find such a nice campground in the popular Big Cottonwood Canyon.  Big Cottonwood Canyon is just minutes from downtown Salt Lake City and can be an extremely busy place to find a nice wilderness experience, but we found one!
Redman Campground is a beautiful campground with large shade trees, a sparkling river, and huge campsites.  I think the most important thing for me when I'm camping is that I don't feel crowded in by my neighbors.  Plus, this particular time just so happened to be Jackson's first time camping (he was 5 weeks old) so we wanted to be as far away from people as we could in case he cried all night.  He actually slept in until 9 a.m.!  This child is a born camper hallelujah.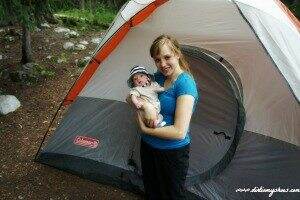 What You Need to Know
So, Redman Campground is at a higher elevation than most of the other activities you will do in the canyon (it's right in between the Brighton and Solitude ski areas).  This means that you could encounter snow on the ground pretty late into the summer season depending on the year.  Be prepared for any weather though, because we had a crazy camping experience.  It was 95 degrees down in Salt Lake City, but 50 degrees at our campsite.  It snowed on us…..in August.  The nights were frigid.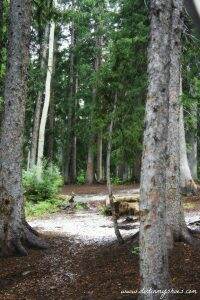 A few sites are reservable, but most are on a first-come, first-serve basis so I showed up in the morning around 10 a.m. to snatch up our site for the weekend.  It does fill up so plan to get there are early as you can.  Check-in is in the afternoon so I just headed back home to wait for John to get off work, but you can find some great hiking trails in the area if you prefer to stay up in the canyon.
Redman Campground is $23 per night and has flush toilets and running water.
Getting Here
From Salt Lake City, take I-215 to the 6200 South exit and travel east to Wasatch Boulevard. Take Wasatch Boulevard for one mile south to the junction with Big Cottonwood Canyon/Highway 190. Make a left at the junction and travel up Big Cottonwood Canyon for 14 miles.  The dirt road to Redman Campground will be on your right.
What is Your Favorite Campground?