Springtime is waterfall season!  This week we completed another short and sweet hike that blew me away.  I couldn't believe that I hadn't been here before.  We hiked to Lisa Falls, which is up Little Cottonwood Canyon in Salt Lake City.  This is a perfect hike for families with small children.
Lisa Falls truly is one of the most unusual waterfalls I have been to.  The walls of the canyon are quite steep, making the water drop off the rocks with such force that it actually directs the waterfall sideways.  At the bottom of the falls, the water actually travels two different directions to two different streams.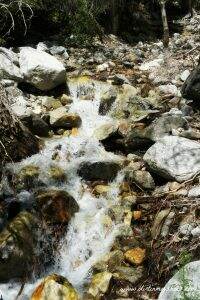 What You Need to Know
Lisa Falls is a seasonal waterfall.  The best time to hike to it is in the spring because it can dry up as the summer goes on.  The water was rushing from the falls while we were there, causing us to have to cross a stream and get our feet wet to continue on the trail.  We had a fun time wading in the shallow pool at the base of the waterfall as well, so I suggest bringing shoes that can get wet!  (You know we love our Chacos).
The parking area is not marked with a sign, and neither is the trail.  Even though the trail is short, it is a steep but manageable uphill the whole way.  If you are feeling adventurous, you can hike to the top of the falls on a trail that is not maintained.  The canyon walls are steep so I wouldn't suggest this for kids.  The trail goes up the left side of the waterfall.  John went up to the top and said it was awesome, while I stayed at the bottom with Jackson.
The trail to Lisa Falls is 0.45 miles round trip.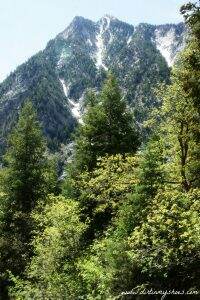 Getting Here
From Salt Lake City, head east on I-215 and turn off at 6200 S, exit 6.  Turn right onto Wasatch Boulevard and continue on this road for 9 miles.  Turn left when you reach 9800 S (Little Cottonwood Road) to reach the mouth of Little Cottonwood Canyon.  About 3 miles up Little Cottonwood Canyon look for two dirt parking areas, one on your right and one on your left.  These parking areas are located between mile markers 6 and 7 right before the road begins to straighten out.  Park in the left parking lot if you can, as the trail starts from here.
Where is the most unusual waterfall you have ever been to?