Picking out a great hike in the spring can be tricky.  Usually there is not enough snow to bring the snowshoes, but there is too much snow to avoid wet and muddy feet.  In the spring, I aim for hikes that are lower in elevation and exposed to some sun.  Big Springs Hollow is a trail that is popular in the winter and the summer, but is perfect for the spring!
As we started our hike, we followed a stream (which Jackson loved of course!) until we entered the Hollow, or the valley.  The views from the Hollow are spectacular.  At the far end of the Hollow is where the beautiful pine trees offer shade and a picturesque setting.  Wildlife frequent the area so have your camera ready.  We saw deer, but it is a popular area for moose as well.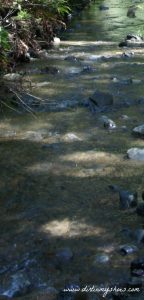 What You Need to Know
You will pass several trail signs pointing the way to Big Springs, but when you actually get to Big Springs there is no sign, just wooden walkways.  Unfortunately for us the springs were dry so there wasn't much to see as far as water is concerned.  We did sit on the walkway and watch a couple of woodpeckers drilling holes in a nearby tree.  I enjoyed the hike more than I enjoyed the destination in this case.
If you are like me and don't appreciate seeing man-made things in nature while you hike, you should be warned that the trail is paralleled by a dirt road for a while.  I don't know what the road is for, and we didn't see any cars on it, but it still bothered me a bit.  I wasn't bothered enough to never hike the trail again, I just wished I would have known so that I could prepare myself for the intrusion! (I know, I know….it's just one of my quirky personality traits).
This trail is 4.34 miles round trip.
Getting Here
The trail begins at Big Springs Park in Provo Canyon.  From the mouth of Provo Canyon, drive east through the canyon, approximately 8 miles, to Vivian Park and turn right onto South Fork Road.  Follow this road for about 3 miles past Vivian Park and South Fork Park.  Take a right when you see a sign that says National Forest Access.  Take the road to the western-most parking area of Big Springs Park and catch the trail from there.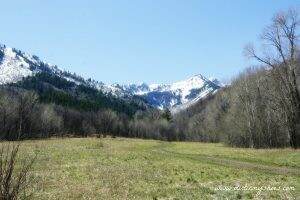 We stopped for a picnic at the park after our hike and loved it!  This park is has beautiful views of Cascade Mountain, is right next to the stream, and has a big grassy field to play on.  I would definitely recommend bringing a picnic lunch.
Do you have a favorite springtime trail?