Yellowstone is an exciting national park located in one of the most picturesque areas of Wyoming. In this article, we'll discuss how to get to Yellowstone National Park, including the best airports to fly into and the best roads to drive!
If you are flying to Yellowstone National Park, the closest airport is the West Yellowstone Airport, which is just outside the West Entrance to the park. If you'd rather fly into a larger international airport, then book your tickets to Bozeman or Salt Lake City.
Driving to Yellowstone National Park? The best scenery is found along Highway 212, The Beartooth Highway. Highway 191 from Grand Teton National Park is spectacular too!

My name is Ash, and I'm a former park ranger. I've been to Yellowstone many times, and I can't wait to help you plan your upcoming trip to this spectacular national park.
Let's talk more about how to get to Yellowstone National Park, including my advice for the best airports and roads in the area!
---
Where is Yellowstone National Park Located?
Yellowstone National Park is located in Northwestern Wyoming. It is approximately 4.5 hours from Salt Lake City, UT, 1.5 hours from Idaho Falls, ID, 1.5 hours from Jackson, WY, and 1.5 hours from Bozeman, MT.
The nearest national park to Yellowstone is Grand Teton National Park — the two parks are only separated by the 8-mile John D. Rockefeller, Jr. Parkway.
The closest towns to Yellowstone National Park with a decent number of amenities are West Yellowstone, MT, and Gardiner, MT.
What is the Closest Airport to Yellowstone National Park?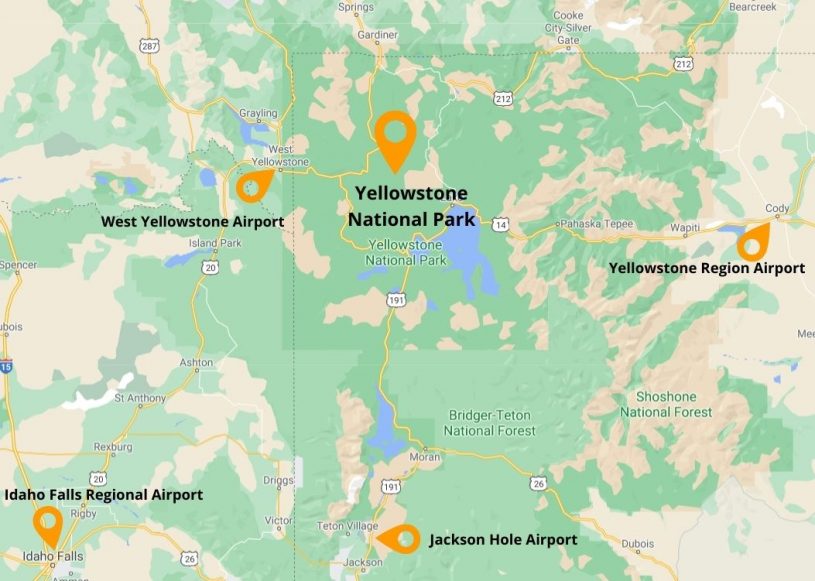 West Yellowstone Airport
The West Yellowstone Airport is the closest airport to Yellowstone. This small airport is located in West Yellowstone, which is just a short 5-minute drive to the park's West Entrance. This entrance is the one I suggest basing your trip out of, so flying into West Yellowstone is an extremely convenient option.
This airport is operational from May to mid-October with flights coming in from the Salt Lake International Airport.
Other Regional Airports Near Yellowstone
Jackson Hole Airport
The Jackson Hole Airport is located within Grand Teton National Park — it may be the most scenic descent you ever experience in an airplane! Flying into this airport is perfect if you plan on seeing both national parks. You'll be about 1.5 hours from Yellowstone's West Thumb, but the drive up is gorgeous because you drive right through Grand Teton. If you fly into this airport, you'll enter Yellowstone through its South Entrance.
American, Delta, and United fly into the Jackson Hole Airport year-round with direct flight options available from several major cities in the country.
Idaho Falls Regional Airport
The Idaho Falls Airport is only about 1.5 hours from West Yellowstone. This airport is sometimes cheaper to fly into than West Yellowstone, and it still gets you quite close to the park's West Entrance. It's serviced by Delta, United, and Allegiant with connections to several larger cities in the area such as Salt Lake City, Denver, Las Vegas, and Mesa.
Yellowstone Region Airport (Cody, WY)
The Cody Airport is approximately 2 hours from the Fishing Bridge area of Yellowstone. If you fly in here, you'll enter the park through the East Entrance. This airport is serviced primarily by Delta, SkyWest, or United with connections from Salt Lake City or Denver and it operates year-round.
The town of Cody is a lot of fun, but I don't recommend basing your trip out of here…it's a long drive from town to anything in the park. If you fly into Cody, spend a day or two enjoying the town before moving on to lodging that's inside or closer to Yellowstone.

What Are the Largest Airports Near Yellowstone National Park?
If you don't want to pay a premium price to fly into one of the smaller regional airports listed above, it will make the most sense to fly into a larger, international airport near Yellowstone, such as the airports in Bozeman or Salt Lake City. Ticket prices to these airports can be hundreds of dollars cheaper without adding too much extra drive time.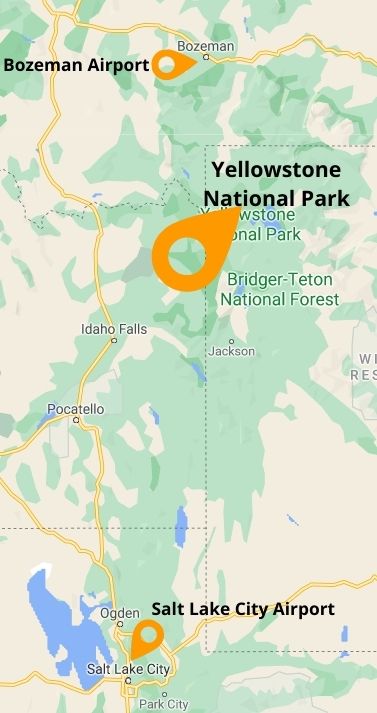 Bozeman Yellowstone International Airport
Flying into Bozeman has a lot of advantages, which makes it my number one choice for flying to Yellowstone. This airport is Montana's busiest airport, so you'll find more flight options and cheaper prices than a lot of the smaller airports in the area.
After you rent a car, you'll only need to drive about 2 hours to reach either Yellowstone's West Entrance or North Entrance. A route I recommend is Bozeman to West Yellowstone (1.5 hrs), explore Yellowstone with this itinerary, West Yellowstone to Jackson (3 hrs), explore Grand Teton with this itinerary, Jackson to Gardiner (4 hrs), and then Gardiner back to Bozeman (1.5 hrs). If you want to add in Glacier National Park, it's only 5 hours from Bozeman.
Now that's an amazing trip!
Salt Lake International Airport
Consider flying in to the Salt Lake International Airport in Salt Lake City, UT if you're hoping to visit both Yellowstone and Grand Teton National Parks. Many Yellowstone visitors fly here and then drive the 4.5 hours up to West Yellowstone.
The drive to West Yellowstone from Salt Lake City takes you through a lot of Idaho farmland, and on a clear day, you can see the Tetons in the distance. After exploring Yellowstone, you can head south through the park to get to Grand Teton. From Grand Teton, it's only another 4.5 hours back to the Salt Lake City Airport.
You can easily see both of Wyoming's national parks by flying in and out of Salt Lake City, but many people also add on Utah's national parks if flying into this airport. Popular parks like Zion and Arches are only about 4 hours from Salt Lake.
Traffic and crowding in Yellowstone can be terrible.
Did you know that it's common to sit in traffic for an hour in Yellowstone?
Are you hoping to see the best sights without getting stuck in traffic, circling parking lots, or being surrounded by people?
Stay ahead of the crowds with this Yellowstone Itinerary. You will see all of the can't-miss spots, plus get lodging and dining guides, driving directions, and insider tips!
The Best Roads to Yellowstone National Park
If you're driving to Yellowstone, you'll encounter some fabulous scenery through Wyoming's rugged landscape! Here are some things you can expect on the roads that lead to Yellowstone National Park.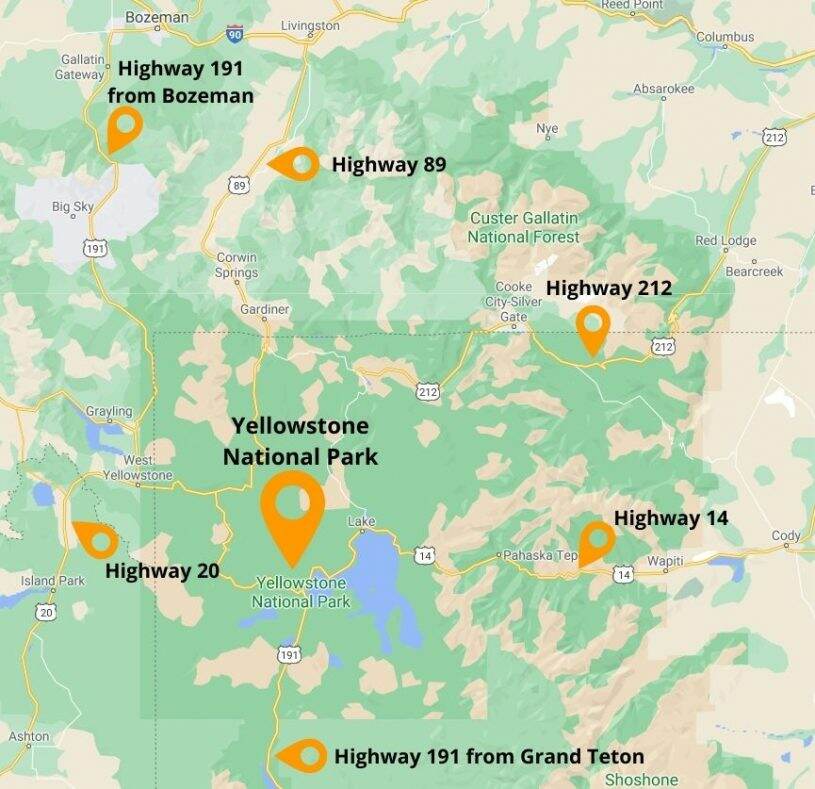 Highway 191 (Grand Teton to Yellowstone South Entrance)
Highway 191 from Grand Teton to the South Entrance of Yellowstone is absolutely breathtaking! You'll pass by the historic Moulton Barn, the Snake River Overlook, and Oxbow Bend in Grand Teton before driving along the shores of Jackson Lake and through Yellowstone's South Entrance. I love the sweeping mountain views and fields full of horses, buffalo, or pronghorn along this drive.
If you drive this way, you will need to pay the entrance fee for Grand Teton at the Moran Entrance. I recommend purchasing the America the Beautiful Annual Pass, which will get you into all national parks for a year.
This road is RV-friendly.
Highway 191 (Bozeman to West Yellowstone)
If you fly into Bozeman, you'll take Highway 191 to get down to West Yellowstone. This road travels through the stunning Gallatin Canyon, past Big Sky (a popular resort destination), and along the western edge of Yellowstone.
Entering the park from this direction is extremely scenic. This road is a basic 2-lane highway with some curves, but driving a large vehicle or RV is just fine along this route.
Highway 89 (Livingston to Gardiner)
Highway 89 is the road you'll drive if you're traveling to Yellowstone's North Entrance near Gardiner, MT. The stretch from Livingston (a charming town near Bozeman) to Gardiner is gorgeous as you follow the Yellowstone River through rolling farmland and ranches. I absolutely love the views of the craggy mountains in the Absaroka Range from here!
This road is RV-friendly.
Highway 20 (Island Park to West Yellowstone)
You'll take Highway 20 if you're driving from Salt Lake City to West Yellowstone. This road travels through Island Park, ID, which is a popular area for ATVing, hiking, and fishing. You're only about 30 minutes from West Yellowstone from Island Park, so some people choose to stay here to avoid the price tag of being just outside the park.
This road is RV-friendly.
Highway 212 (Red Lodge to Cooke City)
Highway 212 from Red Lodge to Cooke City is better known as The Beartooth Highway, and this is the most dramatic and phenomenal way to enter Yellowstone. If you take this road, you'll enter the park's Northeast Entrance near the Lamar Valley.
The Beartooth Highway climbs through the mountains to nearly 11,000 feet above sea level. It has tight curves, big drop-offs, and steep grades. But it also has craggy mountains, sparkling lakes, and 360-degree views. It is one of the most beautiful roads I've ever been on, even after full-time RVing around the country for three years!
This road is open from Memorial Day to mid-October, weather permitting. It's normal for the snow to fall or linger into the summer months. I have seen people driving RVs and trailers up here, but most struggled to stay in their lane (which is extremely dangerous for everyone else on a mountain road like this). RVs are not recommended on the Beartooth Highway, and I personally would not drive my RV up here.
Highway 14 (Cody to Yellowstone East Entrance)
If you're coming to Yellowstone from the Old West town of Cody, you'll take Highway 14 to the park's East Entrance. Enjoy the beautiful views as you drive past the mountains and along the shore of Yellowstone Lake.
I love the town of Cody — it's fun to be in a place with so much character and history. But the thing that most people don't realize is that it takes 2 hours to reach anything of note in Yellowstone from Cody. You'll hit the East Entrance after about 1.5 hours of driving, and then you still have another 30 minutes to get to Fishing Bridge. It's still another 20 minutes to Canyon Village from Fishing Bridge, for a total of nearly 2.5 hours of driving one way. And if you want to go to Old Faithful, you'll be in the car for almost 3 hours each way!
For those reasons, I don't recommend basing your trip to Yellowstone out of Cody. If you want to experience the town, plan some extra time to stay there just for the in-town activities.
Highway 14 is RV-friendly, and it takes you right to Fishing Bridge (the only RV camping with hookups in Yellowstone).
This information should help you get to Yellowstone fast — there are so many fun adventures waiting for you in this enchanting national park. Have a great trip!
This post may contain affiliate links. Dirt In My Shoes gets paid a small commission (at no extra cost to you) when you purchase from these links. Thanks for your support!