Most people visit Yellowstone for the geysers, but I challenge you to venture away from the boardwalks and crowds by taking this secret trail to Little Gibbon Falls. In my experience, Yellowstone actually has many fun spots that are not located on the park maps you receive at the entrance station or visitor center. You could stop almost anywhere and find a little trail to something. Since most people don't even hike while they are visiting this park, it is likely that you will have almost any trail to yourself. But….there is just something about being on a "secret" trail that brings out the adventurer in all of us!
This family friendly trek takes you through a beautiful meadow to reach a stunning waterfall. Be sure to keep your eyes and ears open for the signs of animal life all around you, and enjoy some peace and solitude in an otherwise extremely busy National Park. You will experience Yellowstone in a different way than most people do. Hiking to this waterfall helped me to realize how wild and untamed Yellowstone actually is and how treasures can be found by leaving the road less traveled.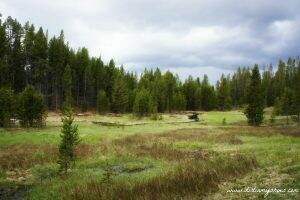 What You Need to Know
For a long time, the parking area for this trail was unmarked. Now, there is a sign that says Wolf Lake. Technically, the hike to Little Gibbon Falls is on the way to Wolf Lake (a 6 mile trail that is marked on your park information), but you would never know that it was there. My topographical map for the area did not even show that this waterfall exists, and the rangers I talked to about it did not know about it either. It was fun to discover a much shorter and family friendly trail to an incredible destination.
This trail is known to be a little marshy and wet through the meadow area, but the week we were in Yellowstone it rained (and rained….and rained) so for a section of the trail we were trekking through a few inches of water. This is not always the case though, so I suggest taking the trail at a time when it has had a chance to dry out.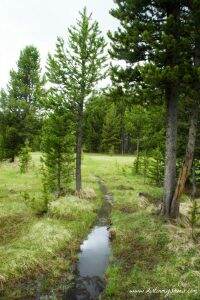 For the first few minutes of your hike, you will still hear the buzz of the cars passing you on the highway. As you continue through the meadow, those sounds will disappear and you will be in your own little paradise. This area is prime habitat for wildlife. We didn't see anything, but we did see some bear scat and a lot of deer and elk prints near the trail. Just know that anytime you hike in Yellowstone, you may run across a grizzly bear (that is the risk you take!). Be sure to carry bear spray, travel in a group, and make noise to alert the bear of your presence. If you are prepared, you will enjoy the possibility of witnessing an animal in its own habitat….seeing wildlife may even become the highlight of your whole trip!
At the end of the meadow, you will hike up a short hill and you will be looking down on Little Gibbon Falls to your right. You can hike a little further along the trail if you want to reach the top of the waterfall.
This trail is 1.2 miles round trip.
Getting Here
From the Norris Junction, travel 3.7 miles east (toward Canyon). A parking pullout along the highway will be on your right and labeled Wolf Lake. Park here. You will need to cross the road (the scariest part of the trail!) and head east for about 30 yards to the beginning of the trail, marked with the orange diamond pictured here.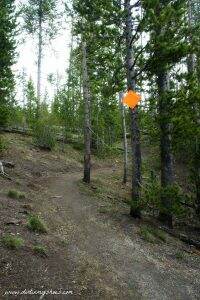 Happy trails! Be sure to check out a list of all of my secret trails here.
Do you have a favorite hiking spot in Yellowstone? Tell me about your hiking experiences in the comments below!