Beverly Beach is a beautiful and pristine beach on the Oregon Coast, making it a great destination for your next vacation!  I loved walking up and down the sandy beach, searching for creatures in the tide pools or whales and seals in the distance.  You can watch a beautiful sunset on the horizon, and then take the short path back to your campsite in the trees (forest and beach….the best of both worlds!).
If you are looking for an affordable and fun way to visit the Oregon Coast, check out Beverly Beach State Park.
What You Need to Know
Beverly Beach State Park has a large campground, which can make it quite the busy place.  I didn't feel overwhelmed by the enormity of the campground though, and still had a very pleasant experience.  In addition to its 128 RV hookup sites, it has 125 tent sites and 21 yurts.  A Visitor Information Center provides some basics like firewood and souvenirs, and the bathrooms have flushing toilets and hot (free) showers.  A walkway under the highway bridge connects your campsite to a beautiful beach.  I was there in March and we actually had the whole beach to ourselves!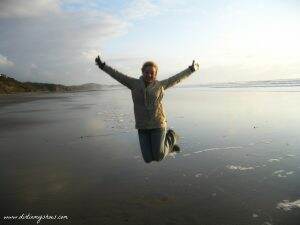 Have you ever camped in a yurt?  You should try it!  Yurts are canvas walls built onto a frame (kind of like a tent) and often have beds (bring your own bedding), electricity, and heat.  Oregon is a great place to try yurt camping because it rains a lot and it's nice to have a refuge from the weather.  A fire pit and picnic table are still provided next to your yurt, and at Beverly Beach the yurts are just a few steps to the beach.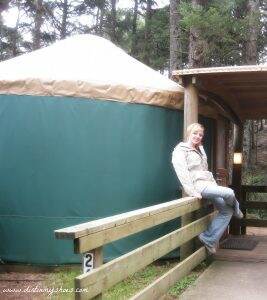 The location is prime, right near the Yaquina Head Lighthouse and seven miles north of the charming Newport area.  Beverly Beach is located right off the highway, so you will likely hear the cars passing by.  I was surprised to be camping in a nice forest of trees, however, and that seemed to muffle a lot of the highway noise.  Some great opportunities for tide-pooling are in the near vicinity, so check out the tide schedule and head out at low tide to see what creatures you discover.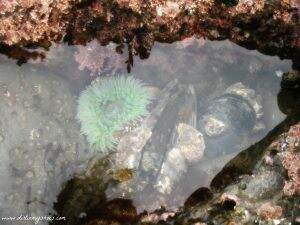 Reservations for this campground are recommended.  Click here for current rates, information, and to reserve your spot!
Getting Here
From Newport, Oregon, travel approximately 7 miles north on Highway 101.  The exit for Beverly Beach State Park will be on your right.
Have you ever been camping on or near a great beach?  Tell me about your experience below!