Are you planning a trip to Wyoming and wondering if Grand Teton National Park is dog-friendly? You're probably excited to bring your dog along on your adventures, so let's talk about your options in Grand Teton.
Grand Teton National Park is not a very dog-friendly national park. Pets must be within 30 feet of paved roads and parking areas at all times. They are not permitted on any trails or pathways, and they are not permitted to swim in park waters.
My name is Ash, and I'm a former park ranger. I worked as a park ranger in Wyoming, and I love to be in Grand Teton any chance I get! I'm excited to help you plan your upcoming trip to this spectacular national park.
Let's talk about the best places to take your dog in Grand Teton National Park!

Where Can I Go With My Dog in Grand Teton?
Dogs are allowed in the following areas:
Campgrounds
Grand Teton has seven campgrounds, and all campgrounds allow dogs. If you want to camp with your dog, please be aware that:
Pets are required to be on a 6-foot leash at all times
Dogs cannot make excessive noise
You must pick up after your dog
Your dog can't be left unattended or tied to an object while you're out exploring the park
Learn more about your camping options here. Leashed dogs are also permitted in park picnic areas.
Parking Lots
Your dog can be with you in any of the parking lots in Grand Teton, but they are not permitted to go more than 30 feet from the pavement. If you need to get out of the car and stretch your legs in the parking lot, your dog may join you.
Please don't leave your pet in the car while you hike.
Scenic Drives
Grand Teton has some gorgeous scenic drives that you can enjoy with your dog. If you plan for some time to enjoy the scenery from the car, you can see some spectacular views in the park together!
A few of my favorite scenic roads are:
Moose-Wilson Road (great for wildlife sightings from the car)
Jenny Lake Scenic Drive (dramatic lake and mountain views)
Teton Park Road (lots of pullouts and close-up mountain views)
Highway 191 (several good pullouts with expansive views of the Teton Range)
Signal Mountain Summit (not the best Teton views, but nice views of the valley)
Take a look at the Grand Teton Map to locate these roads before you go.
Leashed pets are permitted to walk on the Moose-Wilson Road, Teton Park Road, and Antelope Flats Road from November 1 – April 30 for winter recreation.
Always clean up after your dog so that these areas continue to be dog-friendly!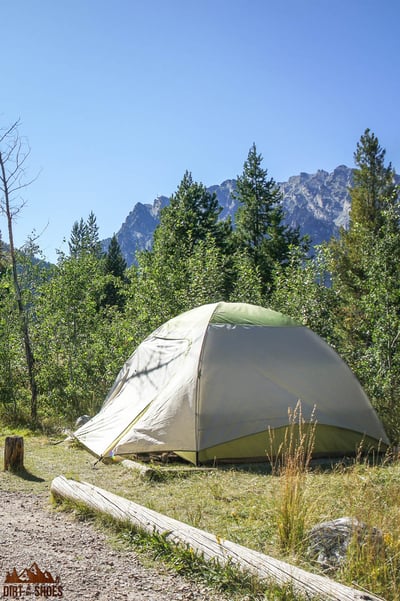 Dogs are not allowed in the following areas:
Trails and Pathways
Dogs are not permitted on any trails or pathways in Grand Teton. This includes all trails (frontcountry and backcountry) and the paved multi-use pathway. This pathway travels from the town of Jackson to South Jenny Lake — you'll see it next to the road as you drive along Highway 191 and along the Teton Park Road.
You cannot carry your dog in your arms, push him in a stroller, carry a kennel, put her in a backpack, etc. to get around these rules. The rule is simply that no dogs are allowed on the trails and pathways in Grand Teton National Park.
Please do not leave your dogs in a vehicle while you hike.
If you want to do some traditional hiking with your dog, you'll find some fabulous trail options in the Jackson Ranger District of the Bridger-Teton National Forest. This beautiful forest service area borders the park's south and east sides, and it includes areas like Snow King, the Gros Ventre Wilderness, and Teton Pass. There are dozens of amazing trails and several established campgrounds in this area.
You'll also find a collection of trails in the Teton Wilderness near the northern boundaries of Grand Teton. The Pacific Creek Trailhead is popular in this area of the national forest.
Leashed pets are permitted on the trails in both of these wilderness areas. The Jackson Hole and Greater Yellowstone Area Visitor Center (located along Highway 191 as you drive from Jackson to Grand Teton) can provide trail maps and information about hiking options in the national forest surrounding the park.
Swimming in Park Waters
Pets are not permitted to swim in any park waters, which includes (but is not limited to) Jenny Lake, String Lake, or Jackson Lake. They are also not permitted in boats, with one exception — you may have your pet on board your boat on Jackson Lake only.
Public Buildings
Dogs are not allowed in Grand Teton National Park's public buildings, such as visitor centers, museums, restaurants, or gift shops.
Everywhere Else
If an area isn't listed in the "Where Dogs Are Allowed" section above, then you should assume that your dog is not permitted.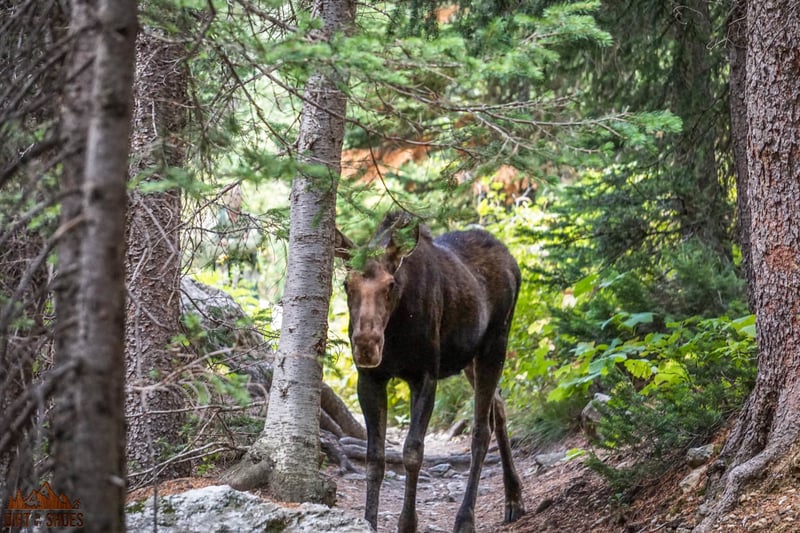 Why Can't I Take My Dog Hiking in Grand Teton?
The most important reason that a national park is established is to preserve and protect the most beautiful places in America. An important part of fulfilling this charge is by keeping the native wildlife safe and healthy and to avoid altering their natural habitat and behaviors.
Pets can transmit diseases to the wildlife in Grand Teton National Park, which can lead to sickness and death of the animals that live here naturally. And vice versa….your dog can also get sick from the wildlife in the park!
Also, Grand Teton is known for its large amounts of bears and moose, neither of which like dogs! Moose may get spooked and charge you or your dog. Bears sometimes follow dogs back to their owners because they see them as prey. For these safety reasons, dogs are limited in where they can go.
Please join with the NPS in their efforts to take better care of the outdoor spaces, including the local wildlife, by following the pet regulations.
Traffic and crowding in Grand Teton can be terrible.
Did you know that it's common to sit in long entrance lines only to discover the parking lots are already full?!
Are you hoping to see the best sights without getting stuck in traffic, circling parking lots, or being surrounded by people?
Stay ahead of the crowds with this Grand Teton Itinerary. You will see all of the can't-miss spots, plus get lodging and dining guides, driving directions, and insider tips!
Where Can I Find the Best Kennel Near Grand Teton?
You can find several kennel options in the towns near Grand Teton National Park.
Jackson — The town of Jackson is located about 30 minutes south of the Moose Entrance of Grand Teton. DogJax or Spring Creek Animal Hospital will be your best options closest to the park.
Victor — If you head up and over the pass (Highway 22 west of Wilson), you'll hit the small town of Victor. Here you'll find Doggieland and The Hairball Hotel. Options in this area are about 1 hour from the Moose Entrance of Grand Teton.
Star Valley — Star Valley is comprised of the small towns of Alpine, Thayne, and Etna (to name a few). Hawks Rest Ranch or Haystack Pet Resort are good options about 1.5 hours from the Moose Entrance of Grand Teton.
What Are Some Dog-Friendly Hotels In/Near Grand Teton?
The good news is, you'll find a lot of dog-friendly lodging options in Grand Teton National Park. This includes:
Jackson Lake Lodge Classic Cabins
Colter Bay Village Cabins and Tent Cabins
Headwaters Lodge Standard Cabins
Signal Mountain Lodge
Find out more about their pet policies in advance, and then book your lodging here. As a reminder, campgrounds in Grand Teton are dog-friendly as well if you're hoping for more in-park options.
You can find several pet-friendly hotels just outside of Grand Teton in the town of Jackson. A few good options are the Cowboy Village Resort, Elk Country Inn, and the 49er.
AirBnB and VRBO also have some options.

What Happens If I Take My Dog Somewhere He's Not Allowed in Grand Teton?
You will receive a citation for no less than $75, but it could be more depending on the infraction.
Park rangers and park volunteers regularly patrol the hiking trails, roads, viewpoints, and swim areas in Grand Teton.
What If I Bring My Service Dog to Grand Teton?
Service dogs that are recognized by the ADA are allowed to accompany their owners throughout the entire park. A service dog must be specifically trained to perform tasks related to the owner's disability.
Emotional support, therapy, or comfort animals do not qualify as service animals in Grand Teton National Park and will be required to follow all pet regulations.
Thanks for being here — I can't wait for you to explore Grand Teton National park with your favorite furry friend!
This post may contain affiliate links. Dirt In My Shoes gets paid a small commission (at no extra cost to you) when you purchase from these links. Thanks for your support!